Introduction:
The world has produced a more comprehensive range of new technology applications. People's wants, needs, and expectations have created plenty of new problems for humanity. The idea that "modern problems deserve modern answers" emphasizes its applicability.One of the wonders of our society, commercial blind-spot detection, has benefited the entire world. With the help of technology, people's problems and many chores have simple solutions. This approach would take less time and effort and get the intended outcome.
Especially in commercial vehicles, blind spot monitors are vital for safe travelling. Large vehicles have more blind spots compared to cars and bikes. Most trucks have solid containers on the back that blocks the rear view completely. Besides that, there are other blind spots too triggering the need for blind spot detection systems.
We know it's important but how the world sees it? Companies are manufacturing vehicles with build-in blind spot systems. So, are they really beneficial and a futuristic idea? Let's find out!
What Is Commercial Blind Spot Detection System?
Using blind spot detection, you may find cars in "blind spots," or places where they are difficult to see. Commercial blind spot detection or blind spot information systems are other names for BSW. These systems monitor the blind spots on either side of your automobile. When it detects an object, a yellow or red indicator will glow in the side mirror or window frame. BSW helps to stop crashes from happening in blind spot areas. They perform when your car is passing or about to change lanes.
What Is The Principle Of Commercial Blind Spot Detection Operation?
Some Blind Spot Detection system uses cameras, but most use radar sensors; the sensors located underneath the back bumper. The sensors keep an eye on the space around and behind your automobile. Your car surrounds on both sides by the detection zone, roughly one lane wide. It runs from the side view mirrors around 10 feet past the rear bumper. In simple words, it can detect cars entering your blind zones from the side, the back, and the front.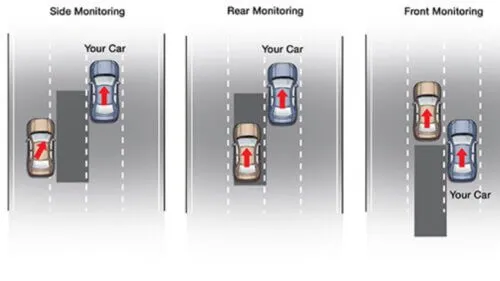 A yellow or red light will turn on when an automobile spots it in the relevant side mirror or window frame. If a car is in your blind area and its signal turns on the steering wheel may shake, and the indicator light may flash. However, not all systems have these options. So, it's always essential to read instruction manual prior to buying.
How Can Blind Spot Detection Assist Drivers In Avoiding Collisions?
Blind spot detection detects and tracks arriving vehicles in the blind spot area. It uses to notify the driver about a severe accident. Lane change alerts send visual signals when they are approaching or in your side blind zone. It might help in avoiding lane change collisions.

The features of lane change alert and side blind zone alert collaborate. Lane Change Alert notifies you of possible car approaches from behind. The detecting range could change depending on how fast your car is moving. But the feature could not activate even if you're moving beyond a vehicle in your blind zone.
The commercial blind spot system helps drivers detect vehicles coming from their blind spots. Depending on how quickly a vehicle is coming, the timing of the warning may change. Blind spot detection detects a collision risk on the way to changing lanes. In that case, it will help in preventing a collision by applying the brake. Again, it's not applicable to all systems. Most of them provide a warning to alert.
Blind spot detection can detect when you are about to hit another vehicle. In this situation, using the brakes will help in avoiding an accident.
What Differences Can Blind-Spot Detection Systems Make?
It may be simple to assume that this is some fancy, stunning automotive gadget you don't need. Even then, some information says blind spot detection is almost as essential a breakthrough in auto safety as the seat belt. So, think again before adopting that attitude.
Collision prevention technology includes blind spot indicators. It has a significant effect on reducing lane-change events by half. And what's the best part? The number of insurance claims for vehicle damage is reduced. In simple words, you get a special discount on insurance premium if you have blind spot detection system installed.
So, if you're confused whether you should get a commercial blind spot detection system, know these three key reasons why you should have this in your vehicle:
Blind spot indicators traffic, even when you aren't. Most of the time, while driving in traffic, you're gazing ahead at the road and often not considering blind spots. But since the blind spot detection technology uses sensors on the back of the car, it can monitor approaching traffic behind you.
Blind spot warnings come in two different forms. You'll see the light on the outside door mirror when a car is in your blind area. That should be all the knowledge you need to refrain from changing lanes. You see a glow in the mirror when you gaze into it. If you miss it and turn on the indicator, you'll get a sound alert: "Don't make a lane change."
You might be the only one willing to pay attention to the signals blind spot detection provides. it improves safety and makes driving more stress-free.
What Future Benefits Will The Commercial Blind Spot Detection System Have?
Future benefits of blind-spot detection systems for driver safety are various. We'll discuss a few of them.
Reduce Right-Turn And Left-Turn Collision
Turning and swiping too much causes accidents, which harm poor vulnerable road users. Driver attention will increase due to less side blind spots and fewer accidents.
Warning Of Danger To Approaching Cyclists and Persons On Foot
The choice between life and death depends on reaction time. The device alerts oncoming motorcyclists, walkers, and cyclists when they approach too quickly. This addition demonstrates how to minimize incidences further.
Raise Driving Confidence Among the Drivers
Help drivers focus on the road a little more. Give them the resources they need so they can drive with more assurance.
Hope For Better Driving Action
Learning about your surroundings might make your life and your car safer. Our range of attention as humans is more limited than what systems are capable of handling. It is beneficial to have as many additional senses as possible covered, especially when a lot is going on around your vehicle. Accidents are automatically avoided by continually checking the blind zones you cannot see while driving.
For Larger Vehicles
Blind spots are more significant with larger vehicles because sections of lanes may be less visible to the driver. Even in low-light conditions, the sensors will warn drivers of potential hazards. This capacity to monitor broad, unseen regions surrounding larger trucks ensures driver safety and gives fleet tracking peace of mind. Such gadgets decrease accidents and can save the additional cost
Will The Market For Commercial Vehicles With Blind Spot Detection Systems Grow Over The Forecast Period?

Increasing market share for blind spot detection systems in the LCV sector will be necessary for earning revenue. ADAS participants are under pressure to take full advantage of rapid technological improvements. Safety systems support strict laws focused on lowering the number of auto-related deaths. These are causing BSD systems to become more prevalent in LCVs.
North America will account for 55% of market growth during the forecast period. In North America, the US is the primary market for blind spot detection systems for commercial vehicles. The market in this area will expand more quickly than the markets in South America, APAC, and MEA combined. Automobile safety systems are design based on recent traffic death rates.
What Is The Market Forecast For Commercial Blind Spot Detection Systems Between 2022 And 2026?
Blind spot detection system market has been rising due to the increased demand for safety features in autos. Many cars now come equipped with cameras and sensors to improve safety. Blind spot detection systems will experience a significant obstacle during the forecast period.
Maintenance workers try to teach users about mirror alignment despite the lack of effectiveness. One needs accuracy to ensure minimal overlap between the rear view and the side view, with more overlap in the center view.
Blind Spot Detection System Market: (2022-2026)
The CAGR of the market from 2022 to 2026, the forecast period.
In the next years, the spot detecting system will change.
Forecasts of future trends and modifications in consumer behavior.
The expanding demand for commercial vehicles with blind spot detection systems.
An examination of the market's competitive landscape and comprehensive vendor data.
The obstacles markets have to overcome for Blind Spot Detection Systems for commercial vehicles.
Reports:
The onboard diagnostics (OBD) telematics segment is likely to grow at a CAGR of 12.75 percent from 2021 to 2026 and reach a value of USD 2.93 billion.
The auto market for transmission electronics expects to grow by 7.06 billion USD between 2021 and 2026 with a CAGR of 6.32%.
How Will Future Commercial Blind Spot Detection Systems Improve Car Safety?

Automobile design innovation has improved driver safety thanks to technology. Blind spot detection systems are a significant field that still needs work. By giving drivers an extra set of eyes while changing lanes, blind spot detection devices can help prevent accidents. Experts are confident that fewer people harm or killed in collisions when this technology becomes more common in newer cars.
The difficulty in detecting drivers in one's blind area contributes to car accidents. The National Highway Traffic Administration believes that 840,000 car accidents and 300 deaths are a result of drivers not being able to see into the blind zones.
Systems for detecting blind spots let the driver see better. Some automakers state that this technology has created more repeat sales and more efficient drivers. This kind of visual support might be beneficial for older and disabled drivers.
A blind spot detection system operates by observing the sides of an automobile.
A blind spot detection system works where locations a driver could have trouble seeing in their mirrors.
It warns of facing collisions with cars in the blind spot and minimizes the danger of accidents when changing lanes.
The sensors detect oncoming vehicles and calculate their speeds. When an automobile detects in the driver's blind zone, a visual sign in the form of an orange or yellow light alerts the driver.
Some manufacturers may mount the sensor lights in the side-view mirrors. When a motorist tries to change lanes and misses the visible sign of another car, an alarm warns that it might be a risk.
It detects cars in the vehicle's blind spot and quickly displays a warning in the side view mirror, as well as a notification when the turn signal turns on.
Classify objects based on their relevance to avoid false alarms.
It reduces accidents caused by incorrect evaluation of incoming cars' speeds.
Heavy-duty trucks and trailers have large blind spot areas. So, many transportation organizations and unions have introduced safety rules for installing this technology in commercial vehicles. The NHTSA has said that it plans to include this method in its safety ratings system. It implies that future automobiles must have blind spot detection technology to earn a five-star rating.
What Features Should A Good Blind-Spot Detection System Have?
Blind spot detection systems are among the essential components for cars. It improves driving experience and road safety. The following are other justifications for using blind-spot monitoring devices:
Helps To Raise Driving Awareness
Drivers can't see everything around them with only one set of eyes. In this case, a blind-spot detection system is useful to prevent collisions in a blind spot region. Drivers can adopt these technologies to get alerts of any possible risks beyond their field of vision.
All car mirrors, even older ones, are necessary for driving assistance. Their goal is to show objects, people, and locations behind, around, and adjacent to cars. Modern vehicles are significantly more high-tech, with even more chances to increase vehicle safety and technology features.
Automotive manufacturers embrace new technical breakthroughs to provide drivers with preventative safety solutions that keep passengers safe. However, not all automobiles, particularly older ones, are equipped with reduced technology. Some vehicle owners must evaluate and install newer technologies that are appropriate for their vehicles.
A Good Amount Of Time For Response
Life and death decisions on the road depend upon braking or reducing your car's speed. That is why side and rearview mirrors are less valuable than a blind-spot alert system. They provide timely alerts about objects around your car or in your blind spot.
The blind-spot detection system warns the driver of potential risk in various ways. Visible lights or alarms on the mirror or dash may flash, the driver's seat may shake, or a warning tone may play. However, it depends on the system. Some systems provide all options, and some don't. When buying, you should check the manual to know if it has the feature, you are looking for.
Passenger Safety
Blind spot monitoring systems work for passenger safety, warning drivers and keeping them secure. Generally, passengers feel safe riding in a car with a blind spot detection system. Additionally, the alarms and indications inform everyone seated in the automobile.
After the sensors make an alert, passengers can help drivers see items in the blind zone. Drivers can adopt technologies such as blind spot detection to alert them to any possible risks beyond their field of vision.
Car Collision
Blind detection systems help avoid car accidents by monitoring the areas in and around your vehicle where you have blind spots. It stops your vehicle from colliding with another car or an object driving in the same or nearby lanes.
That is all about the blind spot detection system, how it works, the best features it will give you, and the reasons for using these safety systems.
Conclusion
Currently, a built-in automotive commercial blind spot detection system is available in every modern vehicle. As a result, the overall rate of accidents started to drop daily. Saving a few pennies can improve your capacity to drive safely.
The potential of blind spot detection systems is enormous, and they will soon be in all cars to ensure excellent driving safety and security. There isn't just one model. The blind spot monitors have different types and models. Each is specifically designed for a specific vehicle type.
For example, trucks and larger vehicles have commercial blind spot detection. On other hand, there are models for cars and bikes too with different functions and features. Plus, there is a universal blind spot detection system that provides compatibility with all vehicles.
If you have a truck, go for unique commercial vehicle blind spot detection systems. They are specially designed for larger vehicles and will provide accuracy accordingly. For more information about commercial blind spot monitors, you can contact our customer support team. They will help you will technicalities and queries.
If you have any questions, pls contact us!