Did you know that certain areas of your trucks are invisible in the side-view mirror? You can not see them due to the vehicle's built. Even if you position your mirrors efficiently, the view will remain obstructed. And unfortunately, most road accidents occur due to these blind spots. The only way to maneuver through these areas is to use a blind spot camera system.
As the name suggests, a blind spot camera kit offers you a clear view of the danger zones of your truck. You can monitor their output footage throughout your travel via a display screen. We offer different sizes of touch-screen displayers for this camera system. So, you can make informed decisions, prevent collisions, stay protected, and keep others safe on the road.
The blind spot camera system works as your driving assistant. It is easy to calibrate and comes with a powerful set of features. Our monitors provide high-quality footage in 720P and 1080P. They come in different frames-per-second options, ranging from 25 to 30. With high-resolution monitoring of your blind spots, you can never get into accidents.
You can get an individual camera or the complete blind spot camera kit. Generally, the truck's right side is the most dangerous no-zone. But we recommend getting the full set of 4 cameras. This way, you can catch what's happening in your truck's blind spots.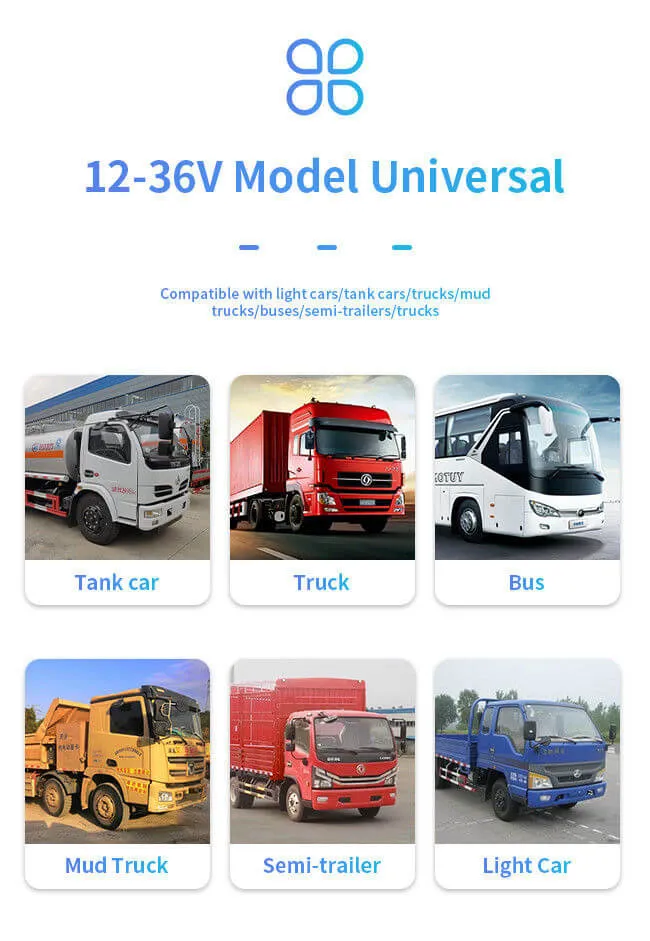 Moreover, these blind spot cameras support different voltage inputs. That means you can install them on most commercial and heavy vehicles seamlessly.
Features Of Blind Spot Camera System
We have the best aftermarket blind spot camera system with the following features:
Supports different video recording modes.
Allows replaying specific footage.
Comes with a keyboard and a touch-screen for display, depending on the model.
Allows splitting the output screen into 4 screens.
The IP67 waterproof grade guarantees effective results even in rainstorms.
Provides different viewing angles.
Offers a stable and crystal-clear video.
Each camera is available with its trigger wire.
Loudspeaker is available with a range of audio settings.
Supports a variety of languages.
Enables automatic and manual adjustment according to your needs.
How Does The Blind Spot Camera System Work?
Generally, a blind spot camera system is connected to the control box. We make this process easier by removing the need for the control box. You can install an individual camera or a complete set of four directly connected to the screen. When the system starts, the cameras send real-time signals to the monitor. As a result, you see the display of the road without any lag.
The system also saves footage in its limited storage. You can view it later or remove it to clear the space for new footage.
Let's talk about the technical specifications and accessories of our blind spot camera system. Here's what you get:
Accessories Included In The Box
| | |
| --- | --- |
| Blind Spot Camera System | Quantity |
| High-definition Cameras | 4 |
| Keyboard display or touch-screen monitor | 1 |
| Reverse trigger wire | 4 |

Technical Specifications
| | |
| --- | --- |
| Screen Size | 7-inch, 8-inch, 9-inch, or 10.1-inch |
| Brightness | 650 cd/m² |
| Viewing Angle | U: 85°/ D: 85°, R/L: 85° |
| Aspect Ratio | 16:9 |
| Contrast | 800:1 |
| Resolution | 1024×3 (RGB) x 600 |
| Color Depth | 24 bit |
| Display Colors | 16.7M dithering |
| Video feeds | 4 |
| Audio Feeds | 4 |
| FPS | 25 – 30 |
| Video Format | AHD |
| Power Supply | DC12V or DC10~32V |
| Power Consumption | Max.32W, including cameras |
| Loudspeaker | 1W/8Ω |
| Power Input | 10V-32V |
| Storage Temperature | -30~+80℃ |
| Operating Temperature | -20~+70℃ |
Functions And Advantages Of The Blind Spot Camera System
With the blind spot camera system on your side, truck driving is safe now. It has a wide array of functions that suit both new and experienced truck drivers. Let's look at all the functions of the system and how they benefit you.
Functions
Here are all the functions:
Our blind spot cameras are equipped with a millimeter radar system. It enables the cameras to emit signals to get accurate positions of other nearby vehicles. Another benefit is that the radar remains unaffected regardless of the weather conditions. It offers 100% precise results whether it is raining or snowing. Outdoor elements, like dirt or fog, can not obstruct the cameras' view either.
The blind spot cameras come in handy for parking. In this case, the rear camera does most of the heavy lifting. It automatically transitions to parking mode. When reversing your vehicle, you can see all the obstacles on your touch-screen. This way, you can get your truck out of the zone without even a minor collision with another vehicle.
3. Digital Video Recorder
If you want to save your road video footage for later, you can do so with our blind spot camera system. It comes with a certain memory capacity, depending on the model you choose.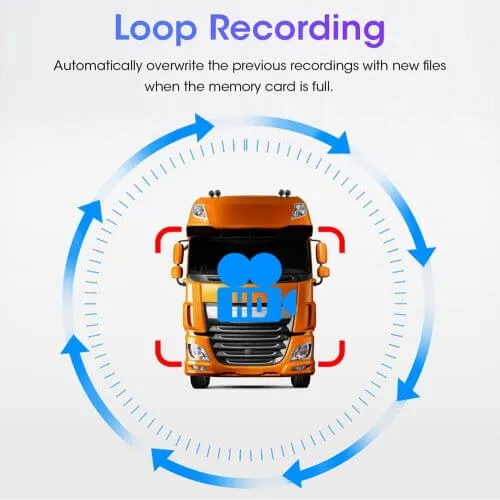 4. Crisp-Quality Voice
The cameras of our blind spot system are equipped with microphones. They offer high-quality voice broadcasts without any distortions or noise. As a result, you can make even better decisions on the road.
5. Split Screen
The display is available in tons of different formats. You can view the output of each camera individually on the screen. Or, you can view all four screens simultaneously. Our system allows you to split the display into up to 6 screens.
6. Intuitive Keyboard and Touch-Screen
Our blind spot camera system has an interactive keyboard and touch-screen monitor. It enables settings for every feature with ease. Plus, you can quickly switch between video formats for better navigation.
7. HD IPS Display
In the end, it all comes down to the display. Our camera system offers an HD IPS display with high brightness. But you can adjust the brightness and contrast if you prefer a bit dim. You can also set the resolution and FPS according to your preferences.
8. Backlight Settings
The backlight is equipped with a 60-level manual adjustment. You can adjust the ambient light settings to your liking.
9. Mirror Image
Not happy with the image format? You can flip the video vertically and horizontally. This adjustment is also available on the display screen with in-depth settings of the CH images.
10. Trigger Functions
All of our cameras are equipped with trigger wires. That means they can provide backup images when switched. The system offers 5 trigger lines, a trigger delay, and a trigger line definition. And the best part is that you can adjust them according to your needs.
Advantages
A blind spot camera system has tons of useful features and functions. But here are all the advantages you get for buying this system from us:
With our 10 years of experience in automotive electronics, you will get only premium quality and durable products.
We offer technical support and complete shipping service on all products.
Our failure rate has always been less than 2% because we test our automotive electronics in different scenarios.
Our blind spot camera system comes in different sizes and types of display.
You can get the camera system at a reasonable price as we do not work as an intermediary. Instead, our company offers all products at the factory prices.
We have an HD IPS screen for the camera system that offers a more crisp video quality than other companies.
Our blind spot cameras offer automatic scanning to choose the best channel.
The blind spot camera installation is quite easy. This framework also keeps the system organized and easy to maintain. Here's how to set up this product:
Install the front and back cameras on the front and rear bumpers of your truck.
Similarly, position the other two cameras on the left and right side-view mirrors.
Now, connect the system via your touch-screen.
Calibrate the camera settings and make sure it is working.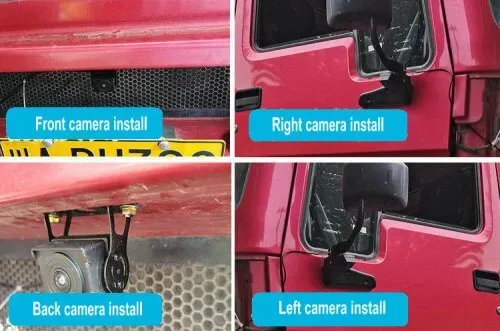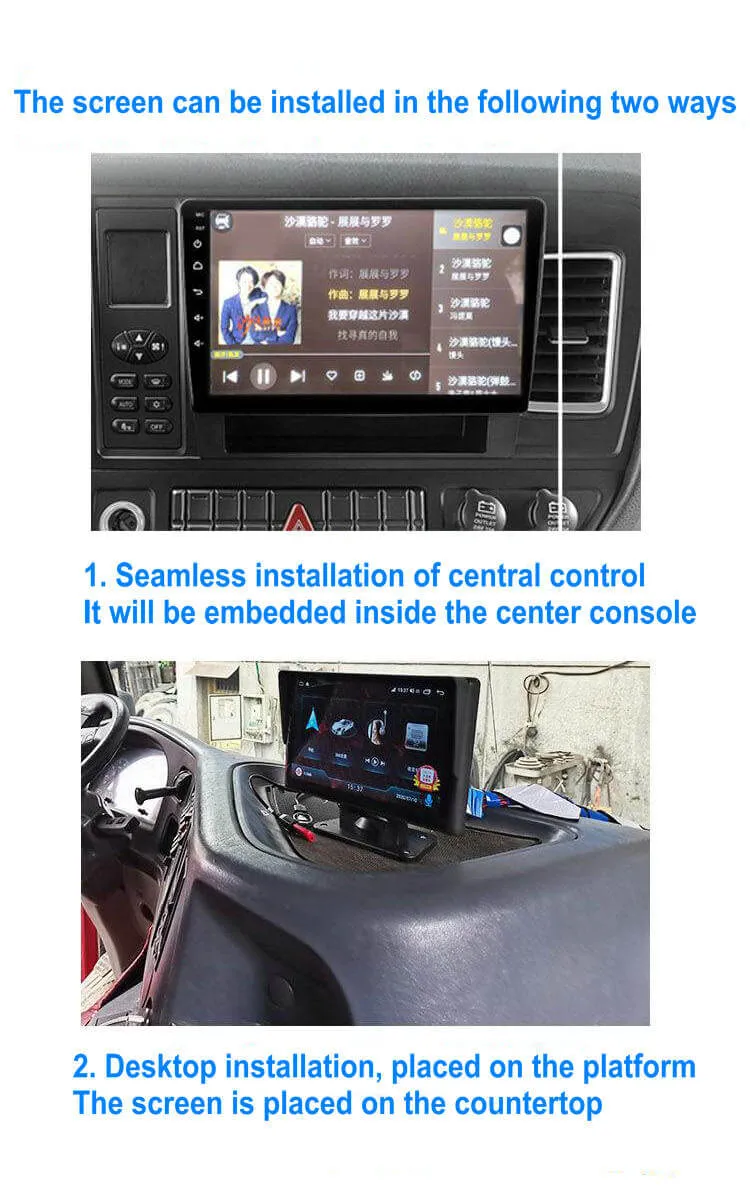 Once you have set up the system, you can change its video formats, viewing angles, brightness level, etc.
Did you know that over 413,000 road accidents occur by truck blind spots every year? You can keep yourself and others protected by equipping your truck with our blind spot camera system. It is an all-in-one solution for high-quality video and audio. The system also can add advanced features, including fleet management, GPS navigation, and trigger priority. These features can increase your truck's efficiency in daily tasks while keeping you safe simultaneously.
We recommend buying the blind spot camera system from us as we offer the best prices. Additionally, we can help you with installation and technical support for the product. Our customer support team is available to assist you 24/7. You can get a free quote for the system from our professionals. We also entertain customized packages for businesses. In any case, feel free to contact us and get the blind spot camera with monitor delivered to your doorstep!
If you have any questions, welcome to contact us!