Engrave your logo on our products to have a unique identity. We have a team who will engrave a custom logo using lasers, so you fully own the products.
Intro
Our company has introduced the latest blind spot sensors designed with the core R&D technology of millimeter wave radar sensors. We have 24GHz and 77GHz millimeter wave radar sensors and various other products helpful to provide a safe driving experience. All products are EU CE certified and fully operational on any road in the world.
In addition to high-quality products, we provide our customers with customized logos. Now, you will have products with your company's logo engraved on them. We care for our customers; therefore, we have introduced a laser-engraved custom logo option for our worldwide clients. Just provide your company's logo, and we will use lasers to print your brand on each product bought from us.
Why Go For Customized Logos?
Have you ever heard of marketing? In the early days of the business, promotion requires a huge investment. Running Ads on commercials or social media is really expensive. So, we have brought a free solution for you.
Introducing a customized logo solution to promote your brand. Now, it's possible to engrave your company's logo on all our products. And the good news is that we provide laser-engraved logos, so it looks 100% original and irremovable.
Even if you own a well-known business, it's vital to have your logo on all products. It's essential for multiple reasons:
No one will sell your product with their packaging.
Selling unique products needs a unique identity.
A free way to promote your brand worldwide.
The fastest way to boost sales and expand your business.
Benefits Of Logo Customization
A unique identity is crucial to expanding your business. If your products' quality is impressive, the buyers will promote your company for free. So, each sale is like a guarantee of the next sale.
No one would forget a product if it saved their life. That's a fact! If blind spot monitoring sensors have your logo engraved on them, buyers will remember and suggest your company's products.
In the future, the competition for blind spot sensors will increase. So, it's best to make your impression in the first days. And the best way to do this is to have a unique identity.
If your company has a registered logo, no one will dare to use your products as theirs. So, it's imperative to own your product by engraving a custom logo
Engraved logo on the radar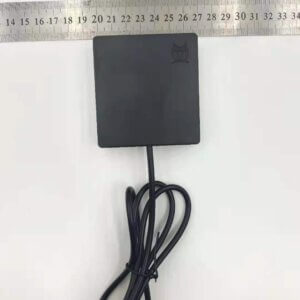 Customized logo on the warning lights
We have all types of blind spot monitor kits compatible will all vehicles, including cars, trucks, bikes, etc. Following are the models available:
1. 24GHz/77GHz millimeter custom-designed wave radars.
8.77GHz millimeter wave radar blind spot monitoring for commercial vehicles' front area (Under research).