Let us tell you a scary fact about your truck; you can not see all its sides when driving. Where does that lead to? When you can not monitor the nearby spots, that results in fatal collisions. Your truck is larger and heavier than an ordinary car, meaning you will not have a larger impact. However, other vehicles and drivers will face more injuries and damages. The optimal solution is using a 360 truck camera system.
A 360 truck camera system monitors all four sides of your truck, including its blind spots. It produces the output footage on an HD display system to notify you of the road. This system allows you to make better decisions, keeping yourself and others safe.
An Overview Of The 360 Truck Camera System
The 360 camera system can make your truck driving way easier. It keeps you informed and enables drivers to perform their tasks more efficiently. You can monitor the real-time display throughout the travel. Additionally, it comes in different screen sizes, providing options for everyone.
The touch-screen display of this system makes navigating settings more straightforward. With automatic calibration, the system takes only a few minutes to set up. You can change its viewing models between 2D and 3D whenever required.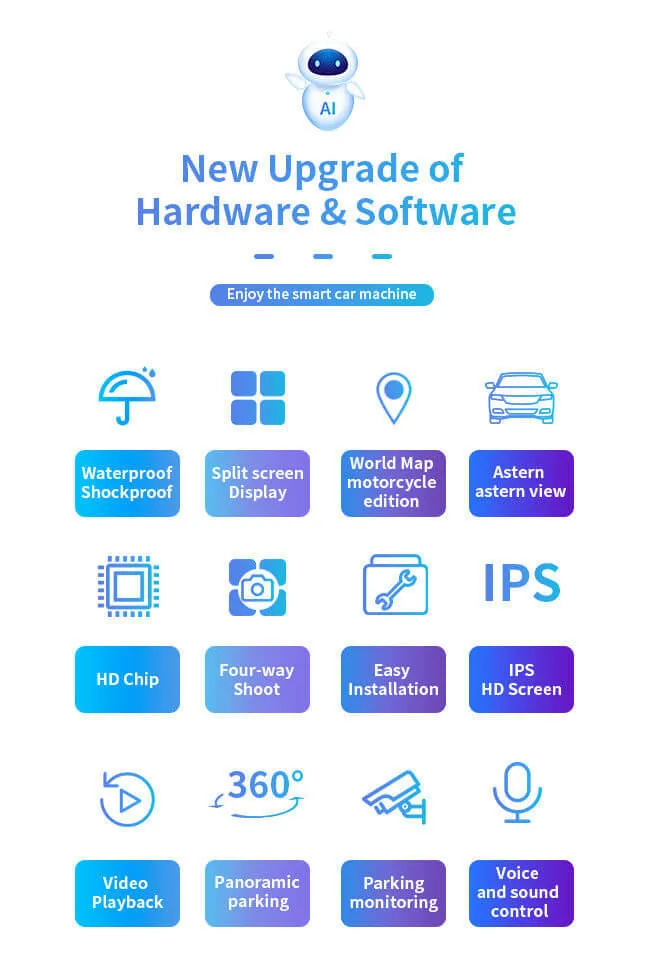 Features of The 360 Truck Camera System
Here is a list of some powerful features of our 360 degree bird view camera for truck:
Larger viewing angles with an IPS screen.
The radar mechanism provides resource integration.
720p and 1080p HD outputs.
Blind spot detection and parking monitoring for more informed decisions.
Crystal clear audio output with MP5 technology.
Bluetooth connectivity for easy setup.
Digital video recorder for later viewings.
Easy road navigation with GPS(Optional,stardard set haven't this.).
9 and 10.1-inch display screens for more convenience.
The front collision warning system is built in for extra protection.
Working Framework of The 360 Truck Camera System
This assistive driving system consists of four cameras. They are installed on all four ends of a truck. The connectivity option varies depending on the 360 truck camera system's model. Some require a control box, while others have Bluetooth. If there is a control box, it is connected to the display screen via an HDMI cable.
While driving, the cameras monitor the road and generate crisp-quality footage. You can see the result in your touch-screen displayer. Our monitors offer different display settings, like 2D, 3D, and split screens. Moreover, our HB IPS screens give you the 360° bird's eye view output for a single-screen solution.
Here are the specifications and accessories that come with the 360 truck camera system:
Accessories In The Box
Following are the accessories associated with the 360 surround view camera system that we offer:
| | |
| --- | --- |
| 360 Truck Camera System Accessories | Quantity |
| HD cameras | 4 |
| Control Box | 1 |
| HDMI cable | 1 |
| SD Card ( GB) | optional |
| 15 meters of extensive cable | 1 |
| HD Monitor | 1 |
Technical Specifications
Dimensions
9 and 10.1 inches
Resolution
1024 x 3 (RGB) x 600
Brightness
600 cd/m2
Aspect Ratio
16:9
Power Consumption
Max. 25W
Power Supply
10-32V
MP5 Loudspeaker
1W/8Ω
Display models
Easy switching between 2D and 3D views
Display Contrast
600:1
Input Range
4CH * 720P (25FPS/30FPS)

Max.4CH×1080P (25FPS/30FPS)

Storage Temperature
-30~+80°C, RH 90%
Operating Temperature
-30~+80°C, RH 90%
Functions Of The 360 Truck Camera System
The working of a 360 truck camera system is straightforward. The best part is that it does not require a lot of user interference. Cameras catch the footage and present it on the display screen. You can use the footage as a truck driver to make informed decisions. However, the system itself is not very simple.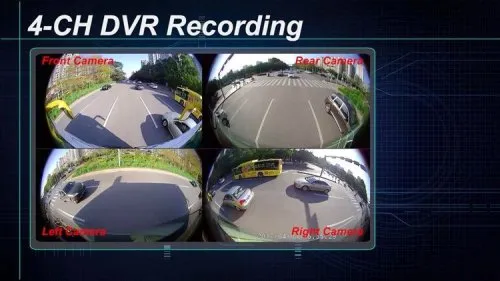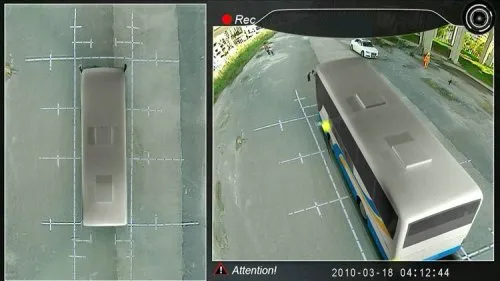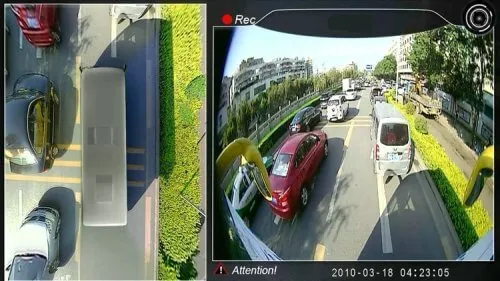 Our 360 surround view camera system is equipped with some advanced functions. Let's go through all of them:
Functions
The product is multi-functional, but here are its 7 leading functions:
1. Switchable Viewing Angles
Do you prefer the 360° display or split screens? Luckily, you can easily switch the display type in our truck camera system. It has 2D and 3D views in fish-eye display settings.
2. Super Rearview Mirror
The 3D viewing model in our 360 truck camera system has a super rearview mirror. It offers a detailed view of the truck's blind spots by covering the entire adjacent lane. That means you can capture all other sides with your cameras and blind spots simultaneously!
3. Trigger Wire
The trigger wire is connected to the reversing light of your truck. It turns on when your vehicle is reversing, providing footage from the back camera. This function helps when reversing out of a parking zone.
4. Feature-Rich Touch-Screen
Do you like changing the settings according to your preferences? You can easily do so with our capable touch-screen display. It allows you to adjust the display, language, viewing model, and much more.
5. Enhanced Compatability
Our 360 truck camera system is not just for trucks and semi-trucks. You can install it on public transport and other large vehicles, like emergency vans. The only thing to consider is power consumption.
6. Radar Strength
We have enhanced our truck camera system with radar support. The radar offers precise results in real-time video and audio. At the same time, it makes the system weather-resistant. That means the cameras effectively will work in intense outdoor conditions, like rainstorms, snow, fog, etc.
7. Digital Video Recorder
Our system comes with an SD card to store your footage. It enables you to view the video later according to your needs. You can install additional SD cards to get more storage capacity whenever required.
Advantages
Our truck camera system is feature-rich and powerful. Buying from us can be pretty beneficial for your individual or business needs. Here's why:
We make use of cutting-edge technologies and the latest trends in the automotive industry to provide perfect solutions.
Our products have durable builds, which can last long with minimal maintenance.
To meet your business needs, we offer custom packages. You can create a personalized package according to your needs.
Our customer support team is available 24/7 via live chat, email, and phone number.
We offer a highly-accessible touch-screen system that is user-friendly and appealing to all users.
Our 360 truck camera system is tested in intense driving scenarios to ensure protection.
We equip our system with an IPS screen, offering a larger viewing angle and enhanced brightness.
Each of our products comes with an in-depth manual that contains all the ins and outs of how the product works.
Our top-notch camera system has a failure rate of less than 2%, providing an ensured safe driving experience.
With the advancement of loudspeakers, you can see the footage and listen to its crisp audio.
The 360 truck camera system has an easy and quick installation process. You can do it even if you have no experience. Here's how to position the cameras: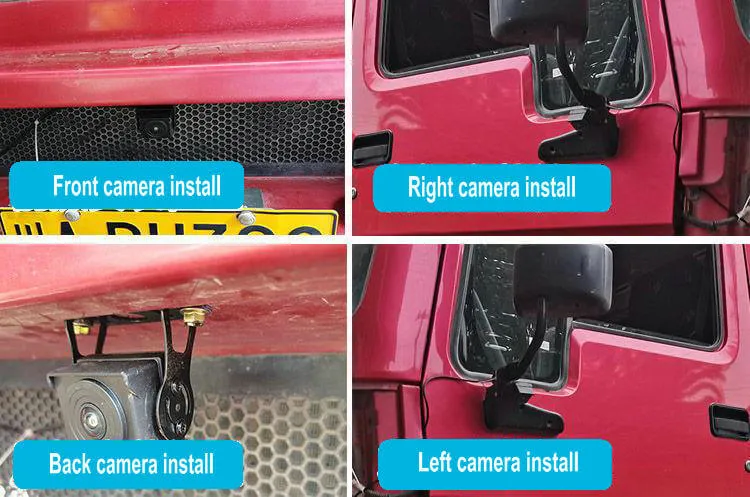 Set up the front camera on the truck's front bumper.
Set up the back camera on the truck's rear bumper.
Position the left camera on the left side-view mirror.
Position the right camera on the right side-view mirror.
Connect the cameras to the control box via their cables.
Then, Set up the display screen on your truck's dashboard.
Now, connect the display screen to the control box via the HDMI cable.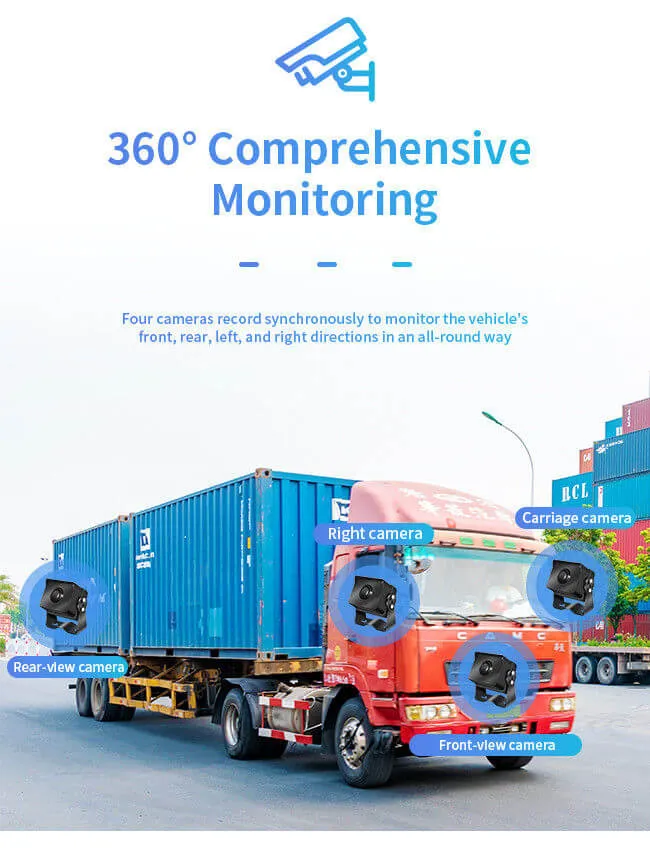 We also offer camera systems with Bluetooth connectivity. Once everything is in place, you can turn on the monitor to see if it works. If it does, you can change its settings according to your preferences.
The 360 truck camera system offers an exceptional view of the nearby parts of the road. You can use them to your advantage and make informed decisions. With the digital video recorder, you can save this footage and learn from your past mistakes. This practice will make you a skillful truck driver while offering advanced safety parameters at the same time. But we will recommend choosing a reliable company for this product.
Finding a good seller can be challenging due to the flooded market and the presence of intermediaries. Luckily, we offer all-in-one solutions with our automotive safety electronics. You can get a quote on our commercial truck camera systems by contacting our professionals. We offer installation, tech support, and delivery for all of our top-notch products. What more could someone ask for?
If you have any questions, welcome to contact us!