12.3 inch digital rear view mirror
Your vehicle is vulnerable to major collisions and devastating road accidents. That's because it is not equipped with assistive driving systems. Modern technology has made driving much easier and safer with systems, like a digital rear view mirror. This simple and convenient driving assistance can be easily installed in your car, van, bus, truck, etc.
Having a digital rear view mirror camera by your side can be a lifesaver. Whether you are a professional driver or hobbyist, this assistance can be handy. It displays real-time video recording using a high-quality camera. Our digital mirror system comes with a variety of powerful features that can make driving safe, efficient, and fun!
A digital rear view mirror is also commonly known as Full Display Mirror. Its main goal is to make driving safer by providing real-time footage of a vehicle's surroundings. It consists of a camera and screen to keep the driver informed throughout the travel. This system is a 10 times better option than an ordinary rearview mirror due to its intelligent features.
Our digital rear view mirrors come with a high-quality display screen. It shows the output footage in crystal-clear video quality. Although we have different options, they are all high-resolution with 720p and 1080p qualities. Even better, their audio quality is also superior as it does not feature any noise or distortion.
But that's not all you get with a wireless rear view mirror camera. Let's look at some of the most prominent features of our digital mirror camera system.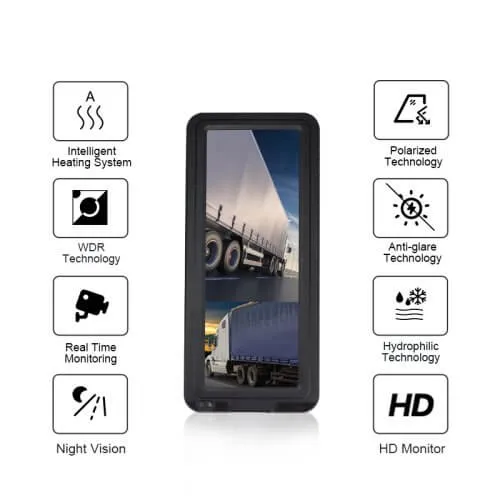 Features Of Digital Rear View Mirror
While features may differ depending on the digital rear view mirror mode, the following ones are consistent:
Automatic Brightness Adjustment: The screen adjusts brightness depending on its environment. For instance, it dims when the lights flash or sunlight directly hits it. Similarly, it can brighten itself when entering a tunnel or driving at night.
Real-time Monitoring: The powerful cameras start recording as soon as you turn on your vehicle and continue monitoring throughout your journey.
Hydrophilic Coating: The mirrors are designed with a hydrophilic coating. It makes them water-resistant, wiping off water droplets quickly.
Anti-glare Screen: A digital rear view mirror uses anti-glare technology. It is helpful during long drives to avoid eye strain.
Auto-Heating System: Moist and cold weather can make the screen blurry. However, digital mirror systems have an auto-heating system to stay clear. It automatically turns on once it detects a temperature below 5°C.
WDR Technology: The WDR technology helps display the actual color, brightness, contrast, and saturation without enhancing or degrading the quality.
Video Modes: Are you tired of a single video mode? You can easily switch between different options, depending on your mirror's model.
Multiple Applications: You can use the digital rear view mirror for vans, cars, trucks, buses, emergency vehicles, and coaches.
Stable Video: The mirror system always provides stable footage, thanks to its camera mount brackets that keep them sturdy even on uneven roads.
Weather Resistance: The cameras are resistant to high winds, rainstorms, snow, and fog. As a result, you always get a clear view consistently.
Working Of Digital Rear View Mirror
The working of a digital rear view mirror is pretty straightforward. It works like any traditional camera or surveillance system. The cameras are positioned to provide an accurate view of the surroundings. They are connected to the screen/mirror using a monitoring interface cable.
There are only two cables with the digital rear view mirror camera system. One connects the cameras to the monitor. The other one links the displayer with the power source. Typically, these systems do not use a control box. That's mainly because they have direct connections between components.
When the cameras fetch the footage, the cables carry them to the screen. Thus, the driver can see the real-time video recording and make informed decisions. You can adjust different camera and screen settings using a remote control.
A digital rear view mirror has certain technical specifications and accessories in its box. Let's look at them to provide a clearer picture:
Accessories with the Digital Rear View Mirror
You get the following accessories with our digital rear view mirror: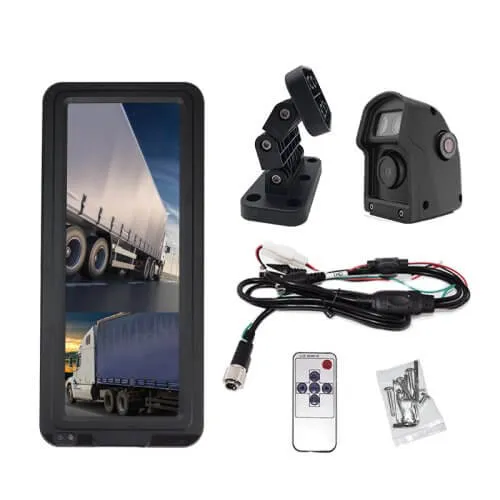 | | |
| --- | --- |
| Digital Rear View Mirror | Quantity |
| HD Camera | 1 |
| Screen/Mirror | 1 |
| Mounting Bracket | 1 |
| SD Card | 1 |
| Remote Control | 1 |
| Monitoring Interface Cable | 1 |
| Power Cable | 1 |
Technical Specifications
The following table showcases the technical specifications of a digital rear view mirror:
| | |
| --- | --- |
| Video Capture Resolution | 1920 * 3 (RGB) * 720 Pixel |
| Display Type | IPS |
| Waterproof Grade | IP69 K |
| Screen Size | 12.3 Inches |
| Monitoring Area | 292.32(H) * 109.62(V) [mm] |
| Camera Angles | U: 85° / D: 85° / L: 85° / R:85° |
| Contrast | 1000:1 |
| Language | English & Simplified Chinese |
| Brightness | 750cd/m2 |
| Material | Plastic or Metal |
| Signal Interface | 4pin Din Aviation Male Connector |
| VPower Supply | DC10V – 32V |
| Video Input | 2 Ch AHD |
| Operation Mode | Remote Control |
Our digital rear view mirror has an assortment of helpful functions. They also integrate some intelligent systems, like auto-heating and brightness adjustment. This system's main responsibility is to keep you safe. However, it can also make driving very efficient with its reliable features.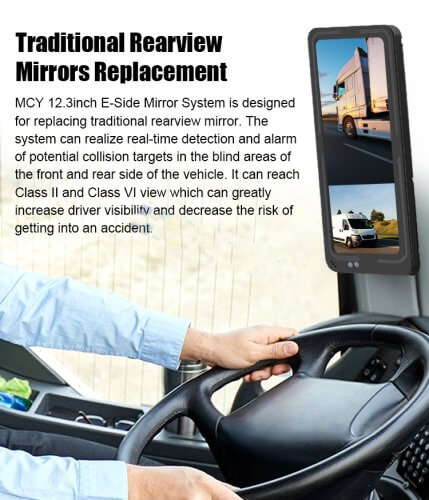 The best digital rear view mirror is the one with convenient functions. Luckily, our system includes the following:
1. Recording and Storage
A digital rear view mirror is an upgrade to the traditional dash cams. It is more convenient thanks to its portable size. Also, it does the job better with its real-time recording. The camera can capture high-quality footage and save it in the system's memory.
Note that our mirror system comes with a 256 GB SD card. It is good enough to record multiple videos. However, you can also manage its memory or install a new card if the storage runs out.
2. Noise Reduction
Our cameras are equipped with high-quality microphones. They assist in recording audio for the footage. Sound can also help prevent accidents by making quick and informed decisions.
Luckily, this system uses noise reduction technology to minimize the distortion. This way, you can never get overwhelmed with the oncoming sounds.
3. Night Vision
Do you find it difficult to drive at night? You can get rid of this problem using a digital rear view mirror camera. It activates night vision in the darkness to provide a clear view.
4. HQ Display
The cameras record HD footage that you can see in your mirror. Thanks to the screen's horizontal position, it is easy to view it. Our systems come with only high-resolution and IPS displays. That means you get a crisp video quality of 720p and 1080p without interruptions.
5. Easy Settings
The remote control provides a familiar experience with the mirror system. It helps you navigate different video modes and other settings. You can easily switch between split screens, video channels, etc.
6. No Disruptions
Has the main camera been damaged or turned off? There's no need to worry, as the system also includes a backup camera. It resides in the same body as the primary one. However, it automatically turns on in an uncertain environment to continue recording the footage.
7. Screen Polarization
The systems use polarized technology to keep your eyes healthy. Any direct flashing light can be dimmed as the system's polarization cuts the glare.
8. Viewing Angles
The cameras of the digital mirror system are movable. That means you can change the viewing angles according to your preferences.
9. Additional Functions
A truck has more dangerous and larger blind spots than a car. Most road accidents occur in these areas as they are invisible to a traditional side-view mirror. However, a digital rear view mirror camera can be upgraded with blind spot detection. This way, it can also monitor these areas and prevent potential accidents.
Advantages
A digital rear view mirror is a one-time investment. It comes with tons of benefits, like safe driving. However, you get even more advantages if you buy this system from our company.
What are these benefits? Let's take a look:
Our digital mirror system has a high-quality camera and an HD screen. It is easy to use as it comes with a remote control.
We provide a 256 GB SD card with our wireless rear view mirror. You can insert another card if the primary one gets full.
You can get a detailed guide to installation from our company. We can also guide you in performing maintenance on the rear view mirror system.
Our website supports 24/7 customer service. You can ask us about your problems or get answers to your valuable queries.
We offer customized packages for all driving assistance systems. That means you get personalized kits for your business. It is an excellent way to promote your brand and increase driving awareness.
You will find the best digital rear view mirror from our company at very reasonable rates. Why is that? Because we do not include middlemen in our dealings. All of our systems are available at factory prices, making them affordable for individuals and businesses.
Over the years, our company has maintained its success rate. That's because of our competitive testing of all driving assistance systems. This way, we can guarantee you excellent performance with no drawbacks.
We use the best materials in our products, making them durable. They provide value for money and maintain their performance for years.
Our digital rear view mirrors are not limited to a specific vehicle. We can help you with cars, vans, buses, and commercial vehicles. You can also use our systems for professional purposes, like fleet management.
If you want further integration in your digital rear view mirror camera, we can help with that. Our blind spot sensors can also be installed in these systems for added protection and efficiency.
A digital rear view mirror is pretty easy to install. Even if you are not tech-savvy, you can install it quickly. Our safety assistance systems come with an in-depth product manual. You can read that for specific instructions.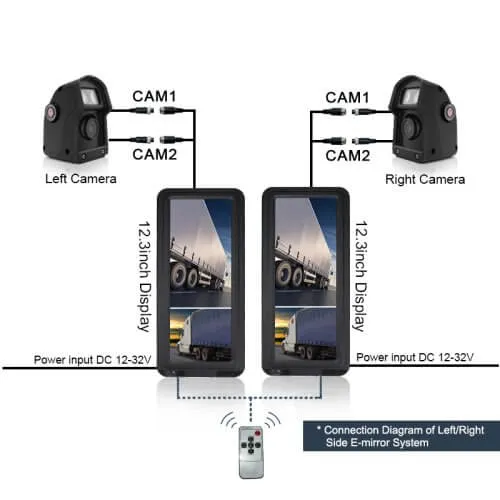 That said, here's how to install this system:
Mount the camera on the car's exterior above the window.
Use the mounting brackets to set the camera location.
Now, use the straps of the screen to place it over the car's default rearview mirror.
Like before, use the adjustment straps and mounting brackets to get the best position.
Connect the camera cable to the screen (if your camera is external).
Now, use the power cable to connect the mirror and a power source to the power cable.
Pro-tip: You can hide the cable behind the car seat or pillars to keep the interior organized and clean.
After setting up the system, start your car and use the remote control to turn on the system. Make sure the camera is in the correct position before you start driving.
A digital rear view mirror is the perfect replacement for traditional car mirrors and dash cams. The best part is that they are portable and keep the vehicle organized. You can use them professionally if you drive a truck, bus, van, or emergency vehicle. On the other hand, many people use this system to record personal road trip memories.
Thanks to its video storage capacity, you can also use this system to waive off false insurance claims. You can use its footage as evidence of road accidents. It can help law enforcers to conclude a case. Or, you can use it to increase driving efficiency by finding the shortest paths with the lowest fuel consumption. The possibilities are endless.
Do you want a professional suggestion? We recommend buying the best digital rear view mirror with an HD camera and high-resolution screen with rich features. Fortunately, you do not have to look anywhere. We provide one-stop solutions for all driving assistance systems with shipping. Want to get a price quote? Great! We entertain free quotes and all kinds of customer queries.
If you have any questions, welcome to contact us!