How To Buy The Best Commercial Vehicle Blind Spot Kit?
It's important you choose a kit that provides easy sensor placement and appearance flexibility. Besides this, it must has an intelligent automated system that tells whether the object is unsafe and alerts you accordingly.
We have a solution for you; Our commercial vehicle blind spot kits. It alerts drivers to any possible dangers outside their field of vision. However, it is still essential to know these considerations. So, what should you look for before buying a commercial vehicle blind spot kit? Following are the features the commercial vehicle blind spot kit must have:
Simple to assemble
Includes everything you need to set up on your trailer and truck
Compatible with almost all vehicles
Contain an integrated reflector for added safety
Resistant to sun exposure and will not break if power washed.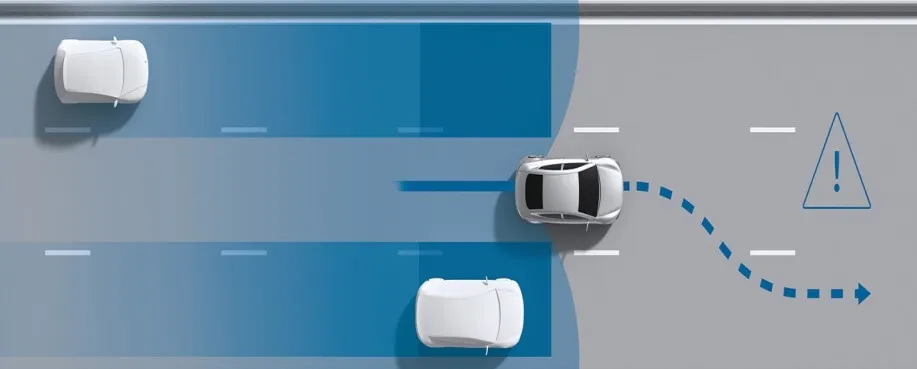 Many commercial vehicles and machines' considerable height and length severely limit driver visibility. So, you must acknowledge which blind spot monitor kit is best for a commercial vehicle. However, many automakers provide blind spot information systems in their cars. Read on to discover the features to glance at while buying the best commercial blind spot kit.
Inside The Commercial Vehicle Blind Spot Kit
All wiring
Hardware
CAN Integration module
Two Radar sensors
Instructions
What Are The Commercial Vehicle Blind Spots?
Blind spots exist in every vehicle on the road. But trucks have the most notable blind spots. These areas are much larger than those of other cars on the road. Failing to check them properly can have serious consequences.
Every driver should be aware of truck blind spots to avoid accidents. These zones are also known as no zones. To reduce the accident risks, the sensors alert drivers about the presence of a moving vehicle in a truck's blind spot. It also provides a side collision warning. When the truck's turn signal is on, the system issues a stronger warning in the form of an audible signal or a seat vibration.
What Qualities Should A Good Blind Spot Monitoring System Have?
Blind spot monitoring can be an effective tool, with lane crossing collisions accounting for nearly 10% of all auto accidents. This technology reduces lane-changing incidents by 14%, as per a 2017 paper from the Insurance Institute for Highway Safety. Additionally, it decreases lane-changing crash injuries by 23%.
Blind spot monitor kit offers an extra safety precaution to account for human mistakes. However, it does not replace checking mirrors and looking behind one's back. It's your job, and you must not fully rely on the detection systems alone.
Very few blind spot monitoring systems perceive objects a few car lengths behind. Although the majority of them only detect passing vehicles beside them. Even the most reliable blind spot monitoring systems are not more than just an assist. It's always important to use side mirrors and be attentive when driving. This system operates like an original equipment-based system.
How fast does the blind spot monitor operate? It can identify vehicles traveling between 5 and 18 mph from the left or right when backing up at five mph or less. It emits a warning tone and turns on the light in the side mirror in the presence of another vehicle.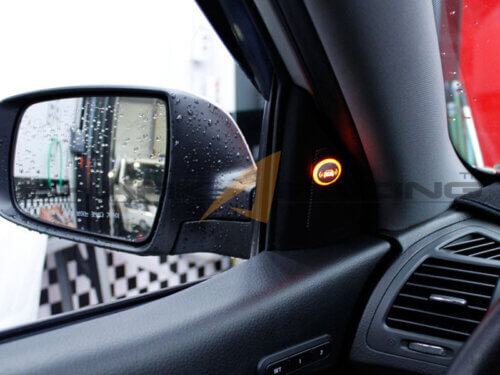 BSM systems won't sound an alarm in the following circumstances:
Whenever a vehicle travels in the other direction
When a vehicle enters the same lane from the rear
When passing stationary obstacles like light poles, guard rails, parked cars, and barriers on the road
Locate the position of the warning lights. They are typically located on the A-pillar next to the window, on the side mirrors, or inside the vehicle.
Ask about the system's rear cross-traffic alert and rear cross-traffic braking capabilities. Both can provide you additional peace of mind when reversing in crowded parking lots with poor sight.
See if the warning chime's volume is adjustable. Some blind spot monitoring devices' default settings may cause them to make loud noises.
Features Of A Good Blind Spot kit
A blind spot kit is an efficient and economical technique to increase driver security. No automotive denies the fact that most side mirrors have blind zones. Survey of National Highway Traffic Safety shows that 840,000 accidents due to blind spots happen annually.
Improve Response Time
Reaction time can depict the difference between life and death. To respond to something, you must first notice it. Blind spot sensors are more impactful than mirrors alone. The reason is that they provide an active notification of something nearby or in the blind spot. When using mirrors, you must still see the reflection to respond appropriately.
Sharpen Your Driving Knowledge
A single pair of eyes can only see so much at once. Having as much extra coverage for your senses is beneficial when a lot is happening around your vehicle. A blind spot monitoring system accomplishes this by scanning the areas you can't see while driving.
Correctness
The accuracy of the sensors is something that varies slightly between systems. Accuracy for blind spot detection kit is essential to ensure that how well the sensors can ignore false triggers. While not ignoring anything, high-quality sensors tend to be more accurate. However, keeping false trigger rates low also demands an advanced controller. As a result, its function is to differentiate as much as possible between positive and false triggers.
Make Passengers Feel More Secure
Few people will argue against the opportunity to ride in a vehicle that improves safety in any way possible. Riding in an older car can provide extra peace of mind for passengers. Better yet, the primary indicators alert everyone in the vehicle. Furthermore, additional passengers can assist you in noticing valuable details following the sensors.
Installation
If your vehicle does not already have one, you will need to install one to use it. If you want good results, professional installation is usually the best option. However, many kits make it possible to install the specific parts yourself. Multiple components, such as sensors and indicators, will need to be positioned with a drill and some connectors. The commercial vehicle blind spot kit also includes a few offers of support, such as foam wraps, to make installation easier.
Monitoring On The Spot
Radar sensors near the rear bumper detect whether another vehicle is approaching yours. The indicator triggers when something enters the sensor's "view" at or above a certain speed. Sensors provide both audible and visual hand signals it detects traffic. When they are not in use, the system becomes dim.
Lane Departure
Video, laser, and infrared sensors detect visible road markings and warn you if you are about to cross them unwittingly.
Radar Blind Spot System With Cross Traffic Detection
When in reverse, the system detects approaching vehicles from the left and right. The beep will indicate an approaching vehicle, and the LED light will enlighten. Radar is a weatherproof solution. Weather condition such as extreme temperatures, humidity, rainfall, and snowfall has no affect on its working. Plus, the radars can operate in various lighting conditions. No matter if it's a day or night, it works perfectly.
Warning Alarm Function
Regardless of whether it is rain, night, snow, or fog radar system alerts the driver. Whenever a moving object appears in the back of the vehicle, an LED blinking, beep sound signals the driver.
Most aftermarket kits use visible LED lights and an audible alarm to alert you. Because the alert is essential for any blind spot monitor system; otherwise, you would have no idea when a sensor is stopped. Many kits will also give you some control over the notifications, such as the alarm volume level.
Future Benefits Of A Blind Spot Kit
Assistance features include
Blind spot detection
Lane change assist
Open door warning
Rear cross-traffic alert
Assist drivers in avoiding side collisions more effectively
Long detection range
Advanced algorithms can accurately assess whether a target is unsafe
Double-checking of overtaking vehicles by inspecting distance and speed
Car Driving Security With Blind Spot Monitoring System
High-speed frequency sensors for the vehicle's left and right rear
Left and right side buzzer warning indicators
Warning indicators will illuminate to alert you to the presence of an object.
The turn signals trigger the system
For proximity readings, an audible buzzer is used
Benefits
Minimize Clash
It prevents crashes with vehicles in the blind spot. It also lowers the risk of accidents when crossing roads. Most accidents are due to incorrect estimation of approaching vehicles' speeds. Blind detection systems monitor the areas around your car and can keep you from colliding with another vehicle. Commercial vehicle blind spot kits also avoid collisions with other vehicles in the same direction.
Instant Alert
It immediately displays a warning in the side view mirror. Moreover, it avoids false alarms and identifies detected objects according to their significance.
Works well and saves Lives
A blind spot monitor is likely a tool to ensure the safest possible on-road experience. When changing lanes, drivers should always use their turn signals. Furthermore, also pay attention to their mirrors, and glance behind them.
Early Detection
Corner radar sensors detect fast-approaching vehicles in the blind spot
Safe Driving
By monitoring the dangerous blind spot area, the blind spot detection kit reduces the risk of an accident during lane changes.
Compatibility of the Blind Spot Kit
Blind spot warnings may differ depending on the model of the vehicle. Therefore it is best to consult your owner's manual to learn about the various warning signs. Additionally, this also determines whether this system is available on your vehicle. Many aftermarket blind spot monitor systems are universal. Hence you may use them regardless of your vehicle's year, brand, or model. These kits are available for a few models of Ford, Mercedes Benz, RAM, and General Motors automobiles. Make sure to explore your options since numerous commercial vehicle blind spot kit choices are available. Many manufacturers include a blind spot monitoring system as a primary or optional feature.
Commercial Vehicle Blind Spot kit Assist Drivers
The size of the vehicle is an important consideration. More significant vehicle drivers, such as SUVs, vans, or trucks, may benefit from a blind spot monitoring system. It will assist them in parking or driving on the highway. In such vehicles, some factors impose the following additional constraints
Operator positions
Missing rear windows
Bodywork panels
Bulkheads
Drivers of large vehicles benefit from blind spot kits because their blind spots are more notable. This kit monitors large, unseen areas surrounding your large vehicle. Whether on highways or city streets, a commercial vehicle blind spot kit can reduce your stress levels everywhere.
Features of commercial vehicle blind spot kit
Simple to install on the truck's exterior Trailer tow option is available
All parts are available as service parts and can be replaced if they become damaged
Sun tested for years of durability
For extra-wide applications, a breakaway model is available
Weathertight connectors and wiring for automobiles
Premium quality and simple installation
Cable sockets are self locking to prevent poor connection during vehicle vibration.
It has a voltage output range of DC 9 to 36 Volts and is simple to install on a vehicle SUV, MPVand truck
Sensitivity is adjustable.
A buzzer with a low/hi/of
Instructions Manual Of The Commercial Vehicle Blind Spot Kit
Yes, an instruction manual is available on our website. Thus If you misplaced or threw away the manual guide and need help with settings, you can download the relevant manual from the website. However, each product comes with a manual. It contains almost all kinds of technical details.
The manufacturer's website will tell you where to get a blind spot kit user manual, and you'll find plenty of manuals in its database. You will undoubtedly be able to assist you with the settings. If you have any questions, you can consult our technical support team at any moment. Read this manual thoroughly and save it for future reference.
Please keep in mind that this product has everything required for installation. However, you must consult the instruction manual for installation procedures. If you are unsure whether your vehicle is compatible, please consult a professional installer.
Is The Blind Spot Kit Equipped With Radar Or Ultrasonic Technology?
That commercial vehicle blind spot kit includes radar technology. It can detect any object in the operating range and alert the driver. This system fits any vehicle with plastic fascias and provides proper fit, finish, and performance. These waves strike a surface, thus easily transmitted through the atmosphere. A simple radar-based system consists of the following components:
Receiver
Waveguides
Transmitter
Antenna
processing unit
Specifications Of Radar System
An intelligent system ignores stationary objects
Reducing false triggers
High precision sensors can detect speed changes up to 15 MPH different from your speed
High effective sensors can detect objects as small as motorcycles up to semi-trucks
Cross-traffic feature facilitates backing out of parking areas
In reverse, the cross-traffic capabilities are immediately activated
Benefits of using radar-based systems for blind spot monitoring:
The following are the advantages of radar-based systems over other sensors
Simple to install
It also has a broader range of applications. It also has a broader range of applications.
Aids in supporting out of a parking spot
Protracted radar systems can see up to 250 meters away
Rubber, an insulator, does not affect radar-based systems
It is relatively stable by the reflective object's surface.
Measure the accurate velocity, distance, and exact position of an object
Relatively easier to accurately identify an object in the blind spot
Less expensive than other technologies
Conclusion
Commercial vehicle blind spot kits are a basic tool that can help keep you safe while driving. It can help you feel less stressed by providing you with an additional pair of eyes on the road. Also, It adds safety to lane changes. The whole kit successfully lowers the frequency of lane change collisions.
A commercial vehicle blind spot kit can reduce blind spots, saving money on vehicle repairs and, ultimately, saving lives. The following things must be in the notice before buying the perfect commercial blind spot kit.
Must determine the location of the indicator lights
Check to see if you can change the volume of the warning chime
Determine whether the system includes a rear cross-traffic alert or braking
Must be compatible with a variety of automobiles
Interior connections must be foam wrapped to minimize noise and shaking
There are plenty of kit options available. So do your homework before buying. Many commercial enterprises provide precision kits for a variety of vehicles. The features of most kits are similar, but the indicators may differ. If you prefer visual signals over audio signals, make sure to choose one of those.
If you have any questions, pls contact us!