Did you know that 388,000 truck accidents occur per year only in the US? Due to the large vehicle's magnitude, it can be a nightmare for other cars to collide with a truck. Luckily, the increasing use of technology has made driving comparatively safer. One such assisting driving system is a truck dash cam.
A dash cam has applications in various vehicles, including commercial and semi trucks. Its affordability and ease of use make it a MUST-have for safe and efficient truck driving. Let's look at everything you need to know about a truck dash cam and why you need it.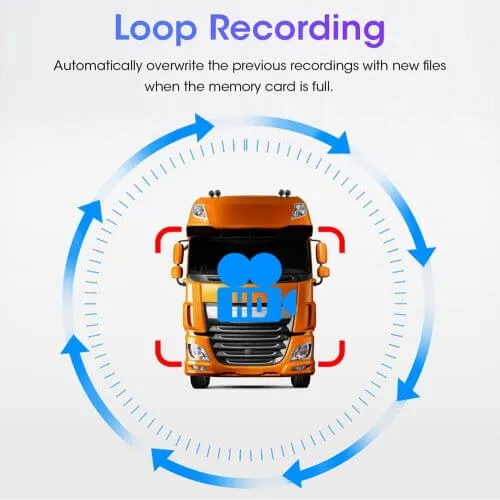 What Is a Truck Dash Cam?
A truck dash cam is a video recording camera mounted on the windshield or dashboard. It is also commonly known as a "Digital Video Recorder (DVR)." This assistive camera system records activities associated with your truck driving.
The concept of a dash cam goes as far back as the 1930s. However, it was only used in police and law enforcement vehicles due to its high price. Over the years, this camera system has become affordable and appealing to regular drivers. Now, it is pretty standard in large vehicles, including trucks.
You can get a dash cam for truck front and rear recording. It allows you to make more informed decisions on the road. The output footage is visible on the display screen mounted on a truck's dashboard or windshield. Modern dash cams integrate more advanced features, including fleet management. This assistive technology has several benefits in the trucking industry.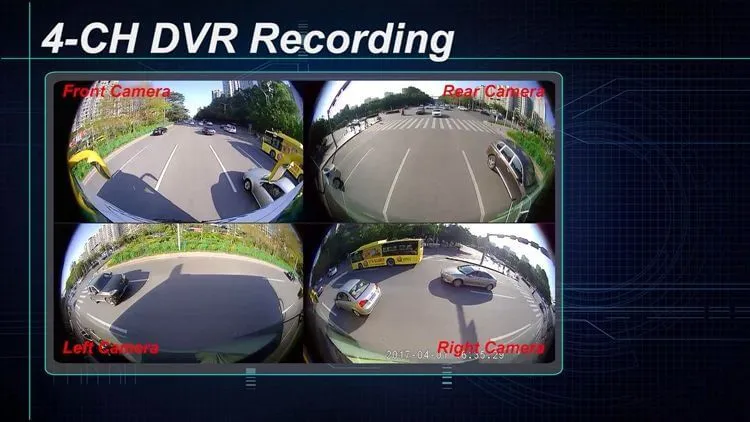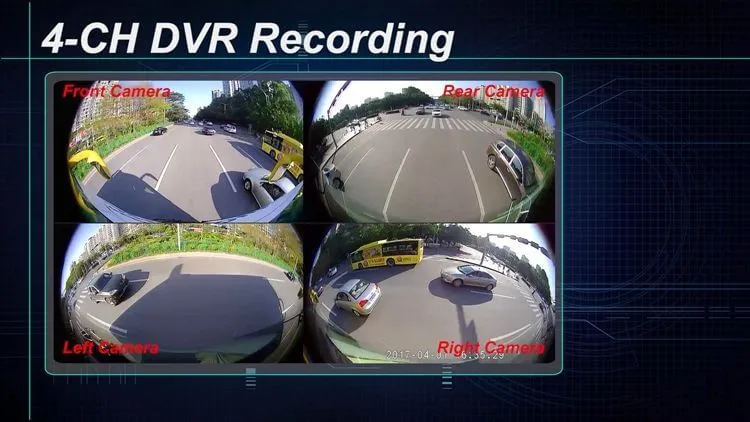 Types Of Truck Dash Cams
Generally, there are three types of truck dash cameras. They are listed and explained below:
1. Driver-Facing Dash Cam
These cameras are pretty common in the law enforcement sector. However, driver-facing cameras are becoming standardized in trucks as well. They give a clear view of everything happening inside the truck. Their primary use is to avoid theft when the truck is parked. At the same time, it records all the interior activities to avoid common driving mistakes and make fleet management more efficient.
2. Road-Facing Dash Cam
The road-facing dash cam is the most useful for truck drivers. It monitors the road and provides a clear output video. Also, it keeps the backup evidence to avoid fraudulent insurance claims. You can watch the truck dash cam footage on the display screen that generally comes with the camera system.
3. Dual-Facing Dash Cam
If you want an all-in-one solution, go for the dual-facing dash cams. They are more advanced as they capture outward and inward footage. Usually, dual-facing systems are equipped with powerful features, like wide-angle lenses, to offer a crystal-clear view of the truck's surroundings. Their primary aim is to improve fleet management with recorded and saved driving footage.
If you want to go one step ahead, you can choose the 3 camera dash cam for trucks. Also, many other types of dash cams are available in the market. But they are only the upgraded versions of these main types.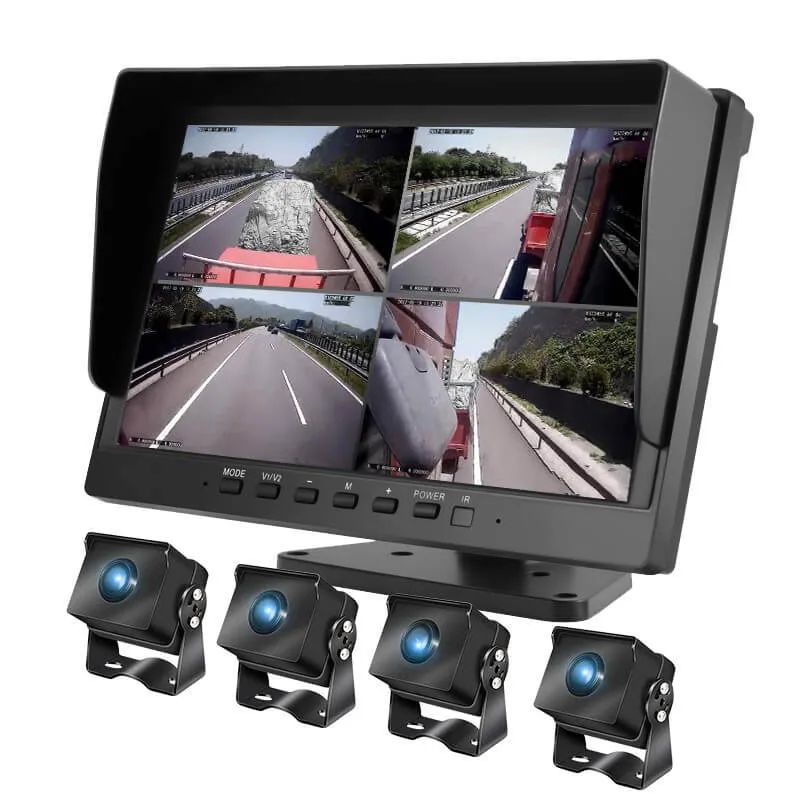 6 Reasons to Install a Truck Dash Cam
Here are the 5 key reasons you need a truck dash cam:
1. Evidence Of an Accident
Being in a road accident with your truck can be very dangerous. However, the situation gets even more challenging when other drivers blame you for the accident. A dash cam works as your first-hand evidence. It can record the inside and surroundings of the truck in real-time. You can use this footage as proof in case of an accident and easily claim your insurance.
The best part is that dash cams allow you to store specific footage. Even though they have a storage limit, this feature is handy for using the video as your evidence.
2. More Control To The Driver
Truck driving is a demanding task requiring your full attention on the road. Sometimes, a minor distraction can lead to a devastating accident. You can avoid that by installing a semi truck dash cam. It gives more control over the fleet by increasing the road's visibility. This camera system takes the burden off the truck driver by avoiding accidents and making driving safer.
3. Prevent Insurance Fraud
Many times, insurance may not accept a road accident. That is where a dash cam comes in to assist you. You can always use its video footage as a piece of hard evidence against insurance scams.
At the same time, it is helpful for the insurance companies. That's because many dishonest truck drivers create false claims after a road accident or collision. The truck dash cam footage can prove whether the driver's claim is valid.
4. Avoid Theft
A truck is in a vulnerable position when parked. Theft and other crimes can easily happen to the vehicle. Frequently, the thief's identity remains unknown due to no surveillance system in a truck. The solution is to use commercial truck dash camera systems.
These assistive driving systems have security and surveillance modes. That means the cameras remain active even if the vehicle isn't turned on. You can record the truck's interior with a driver-facing dash cam even when it is parked or left attended. In fact, theft is less likely to occur in a truck equipped with a dash cam.
5. Record Your Journey
The main reason fleet management invests in dash cams is to record a truck's journey. It helps them highlight the mistakes of the driver. Also, they can pinpoint the areas where they can tweak to gain more efficiency. A truck dash cam enables the trucking industry to lower costs and minimize the chances of collisions. With the camera system's built-in storage, drivers can easily save their video footage for future uses. It can serve as a piece of evidence, driving review, etc.
6. Powerful Features
Most dash cams are not limited to just recording videos. They are equipped with some powerful features, especially modern ones. You will find a truck dash cam integrated with a feature-rich application, allowing you to work via your smartphone.
The best dash cameras for truck drivers are the ones with HD video quality and capable file storage. You can get smart systems with features like GPS navigation, ELD integration, AI-based reporting, intelligent analytics, etc.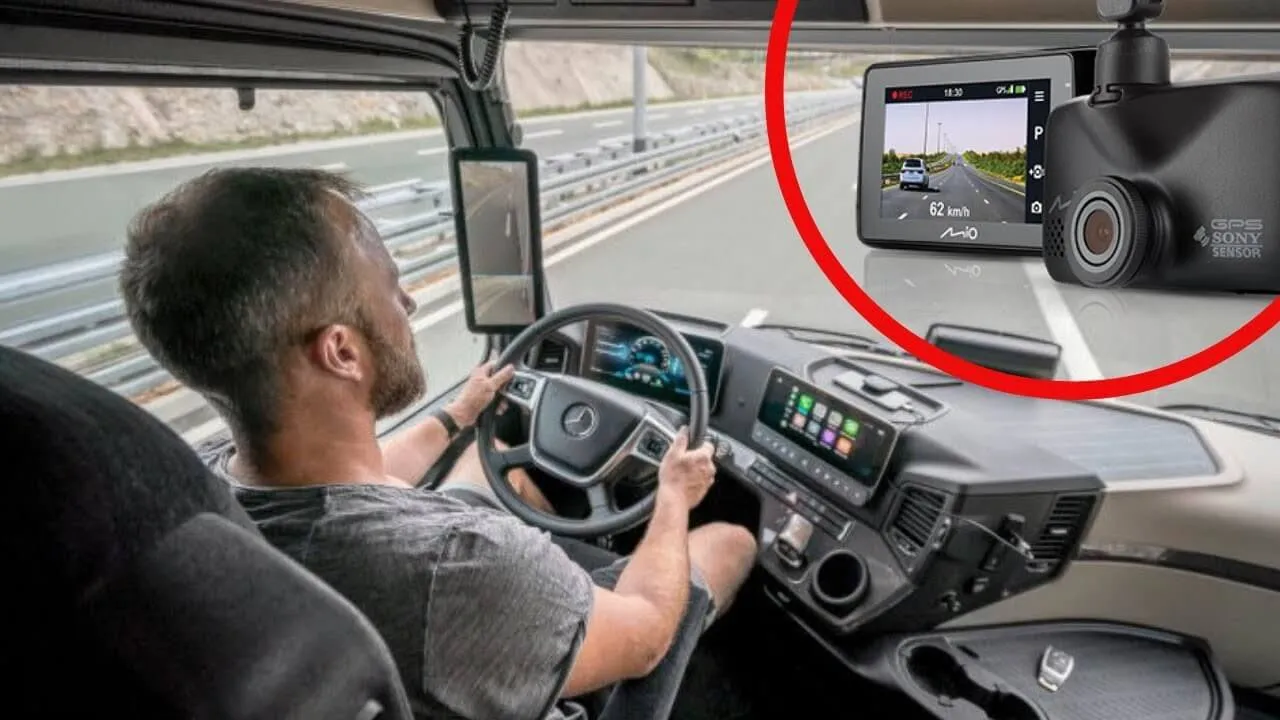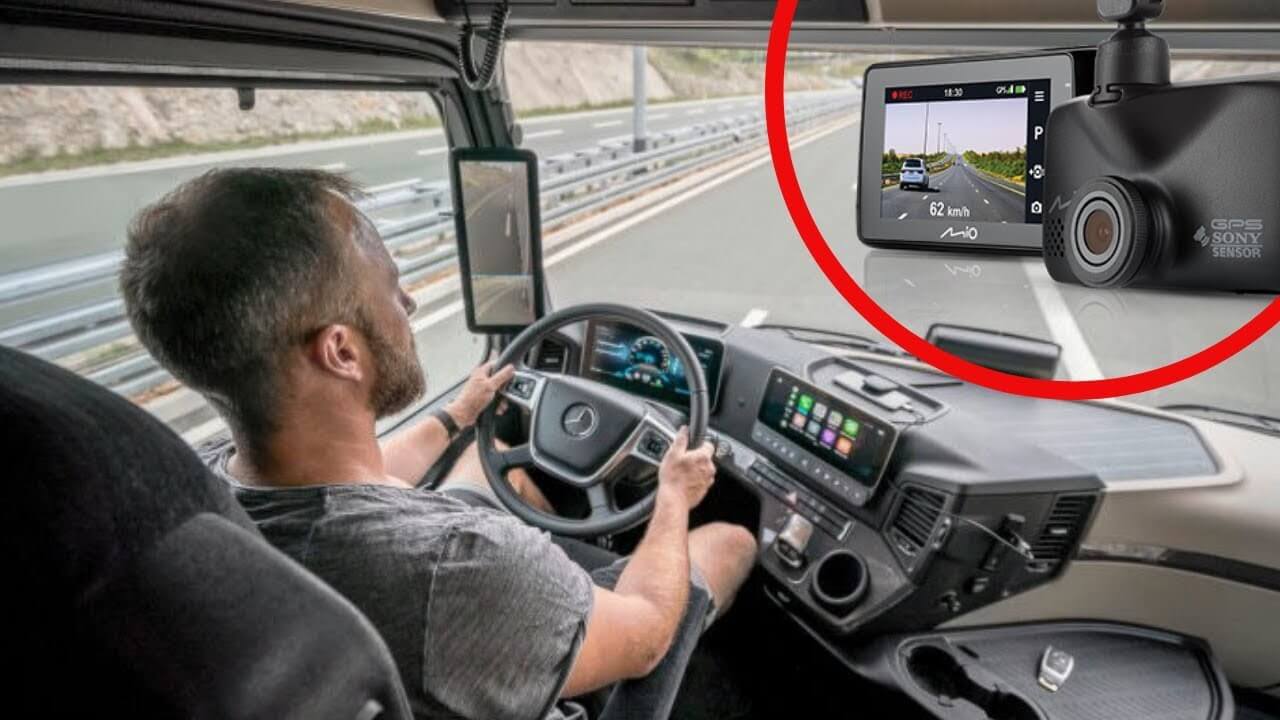 How to Install and Maintain a Truck Dash Cam?
The installation depends on the truck dash cam's model and type. Usually, the best position is the windshield's top center, but some drivers prefer the side of the rearview mirror. You can find your ideal position by trying both placements.
Here's how to install the semi truck dash cam:
Clean the windshield properly to ensure no dust or debris is left.
Now, press the dash cam against the windscreen for 15 seconds.
Check if you have a good connection and the camera is positioned correctly.
A dash cam does not require a lot of maintenance. Here's what you need to consider:
Make sure to keep the lens and windshield clean.
Check the file storage after every recording to avoid getting the memory full.
Depending on your dash cam's model, you can get a new SD card with higher storage.
Last but not least, update your dash cam firmware with every new update to avoid software issues.
You can always format the SD card if you are running low on storage capacity. It allows newer video recordings to be saved seamlessly. Note that some older dash cam models will not get updates for the firmware. In that case, you do not need to worry about getting the latest firmware. However, you might be missing out on some newer features. If you can, get a new dash cam with smart features for your truck.
Legal Aspects to Consider For a Truck Dash Cam Installation
Every country and state has different rules regarding a vehicle's privacy. You should consider them before installing a dash cam. For instance, many people resist driver-facing cameras. It is best to review and consult a legal in this case. That's because recording someone's video or audio without their consent is illegal.
So, the best practice is to tell people about your truck dash cam when they get in the vehicle. While dash cams are completely legal in almost every country, it is essential to support everyone's privacy.
Conclusion
A truck dash cam has countless benefits, including recorded data, video evidence, and fewer chances of theft. This simple assistive driving system makes your truck 10 times more efficient. It prevents accidents and lower fleet management costs significantly. With its variety of types and models, you will surely find an option that fits your requirements.
It is highly recommended that drivers make the most of their truck dash cam footage. You can use it against false claims or share it as proof with law enforcement authorities. With its saved recordings, you can review your mistakes and become a better driver.
If you have any questions, pls contact us!